Engraving and scroll design manual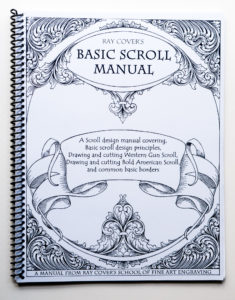 Ray Cover's Basic Scroll Manual is geared toward the beginner yet has solid useful information for the experienced engraver. No matter if you are just starting your journey into the world of designing and drawing scroll or you have been at it for a while this manual is a good resource to help you on your way.
The manual covers such topics as:
• The basic principles of scroll design
• Drawing tips and tricks
• Designing and cutting Western Gun Scroll
• Designing and cutting Bold American Scroll
• Designing common borders
83 pages, a must for every beginner!
This must now be ordered from Rob and Tira Mitchell at Engraver.com