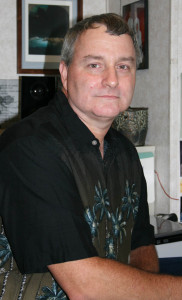 Ray grew up in his fathers knife making shop. Well, actually, calling Ray Cover Sr.'s shop a knife making shop is a massive understatement. Now retired, Ray Sr. was a professional machinist, a gunsmith, leather worker, and woodworker along side being a very accomplished knife maker. Ray Jr. grew up in that environment of high craftsmanship in a variety of materials and disciplines.
Memorable lessons that Ray learned from his father include, "Try to make each project you do a little better than the last one you finished.", "Nothing will make an old man out of you faster than dragging yourself, day by day, into a job that you hate.", "It doesn't matter what you do, if you you are one of the best at it you can make money doing it."
Ray was fortunate that his parents encouraged his artistic abilities and interest. They never had that,"Why don't you get a real job", attitude toward Ray's artistic goals. Actually, it was Ray's father that started the ball rolling that lead toward Ray's engraving career. When Ray was 14 his father recognized his ability to draw and paint and the discussion that ensued lead around to the medium of scrimshaw (engraving on ivory).
Ray wanted to try it so his father polished up some plastics and a sheet of micarta (ivory substitute). Ray made some tools and the practice began. On these pieces, Ray scrimshawed a portrait of Elmer Keith and several wildlife scenes. They turned out impressively well. These samples were on the table at next knife show that Ray and his father attended and Ray was taking work as a scrimshander. "Scrimshander" was Ray's high school and college job title.
College Years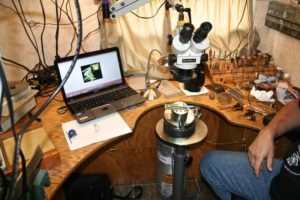 Ray did his first two years of college at Mineral Area College and studied art under Jerry Walters. Mr Walters was not only a fantastic teacher (now retired), he still works to this day as an accomplished print-maker. This is were a lot of Ray's design sense was developed. After graduating with his AA Ray went to Southeast Missouri State University where he earned a Bachelors degree in Art Education.
This post college period was a very pivotal point for Ray. It was during the last year of college that Ray started moving out of scrimshaw into metal engraving.
He started his first full time teaching job during this period. He also met and married his wife Holly while teaching in a K-12 public school in Lesterville, MO.
Art Teacher
After three years at Lesterville, Ray moved to the Potosi School District where he worked as a high school art teacher for three years. Teaching in the public schools taught Ray a couple of things. First it taught him that he loved to teach art. Secondly, it taught him that he hated politics, bureaucracy, and pointless busywork.
The public school systems are rife with all three and Ray had neither the patience, inclination, nor the temperament to "play the game". Finding himself in a situation where he love teaching but hated his job, it became apparent that something had to change.
Engraving Career
During this six years as a teacher Ray had been working in his spare time as an artist doing custom engraving. Many public school teachers have part time jobs outside of school to help make ends meet and engraving was a convenient way for Ray to do this.
After weighing all the options the decision was made. Ray quit his teaching job and followed his passions to be a full time engraver. His first year as a full time self employed engraver he made double his teaching salary and never looked back.
Ray built a successful engraving career over the next few years. His work was published in many magazines and books and a sizable repeat clientele was built.
Ray Cover's New School
In 2006 Ray started remembering how much he enjoyed teaching. At that time he had a studio space that was larger than he needed for engraving. Ray acquired a loan from the bank to buy the equipment needed and remodel the studio to open an engraving school. Ray Cover's School of Fine Art Engraving was born. The school grew and developed a reputation for the quality of its instruction. Ray spent the next seven years engraving and teaching.
In 2013 Ray and Holly filed for a divorce. Finding himself with no studio and no home, Ray moved into his camper, built an engraving studio in one end of the camper and hit the road.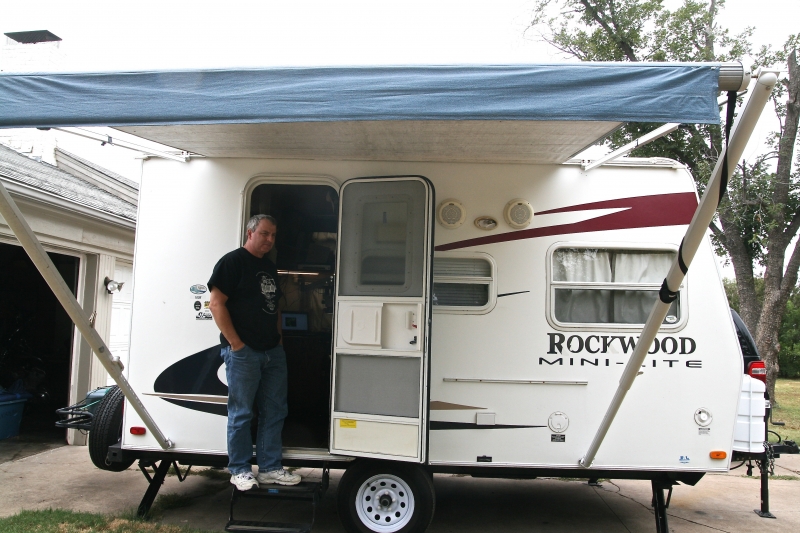 Traveling around the country teaching at various host studios allowed him to keep the school alive while he worked to have a permanent location again.
He spent the next two and a half years traveling, teaching and engraving to pay off all the debts he had after the divorce. Once he was debt free he started saving for a new home and studio.
In the fall of 2017 a friend offered to rent space to Ray for a school and studio. The space was remodeled into a studio for Ray and a classroom for the school and Ray stopped traveling.
This is where the engraving school and studio are currently located.
Ray's Interest and Hobbies
Growing up in rural Missouri, Ray learned to love the outdoors. He enjoys shooting sports and hunting but his real passions are for fishing, camping and canoeing.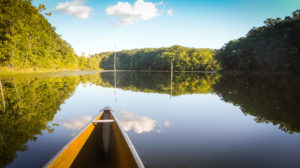 Annual trips to the boundary waters combine all three of these passions and are a never miss activity for Ray. A natural born "River Rat" and "Water Dog", he spends a lot of his down time on local rivers and lakes either fishing, canoeing or both.
Often when a project is finished, or he just needs a mental break for a while, Ray will leave the studio after supper time and spend the evening paddling one of his favorite local lakes in his solo canoe. This often provides the opportunity to sneak up on local wildlife watering at the lake.
Fly tying and rod building
Ray inherited his father's ability to design and make a variety of things and make them well. This ability combined with his love of fishing has lead him into fly tying and rod building. He has built carbon fiber fly rods for many years now.
He took a bamboo rod building class from John Hollifield in 2017 and started building fly rods and spinning rods out of bamboo. A desire to make his own camping gear lead him to learn to sew. Engraved printmaking is another interest he has his eye on for the near future. Don't be surprised to see him build a solo cedar strip canoe one day.
Engraving full time
Besides teaching, Ray is a full time bench engraver and his current work can be found at www.rcoverengraving.com